Man skal unne seg gode ting til hverdags også, synes jeg. En tilfeldig, mørk mandagskveld lyses opp hvis man tryller frem noe snadder! Ekstra kjekt er det med sånt som er lett og raskt og lage, og det er en bonus om man kan spise det med god samvittighet.
Forleden laget jeg noen små bananpannekaker som kveldskos, og disse oppfyller alle kriteriene!
Oppskriften er så enkel at det egentlig ikke er en oppskrift. Det er mer et tips.
Du trenger nemlig bare to ingredienser og ti minutter for å lage disse godbitene:
Superenkle bananpannekaker
1 banan
2 dl havgregryn
…og det er det! Mos bananen og bland inn havregrynene. Vips, så har du «pannekakerøre».
Du kan dessuten tilsette litt kanel om du vil (det vil jeg alltid, hoho). Man kan også smakssette disse pannekakene med andre ting, som litt sjokoladepulver, kokos eller kardemomme. Alt blir godt!
Finn frem en stekepanne og litt smør, skru på middels varme og form fire lapper.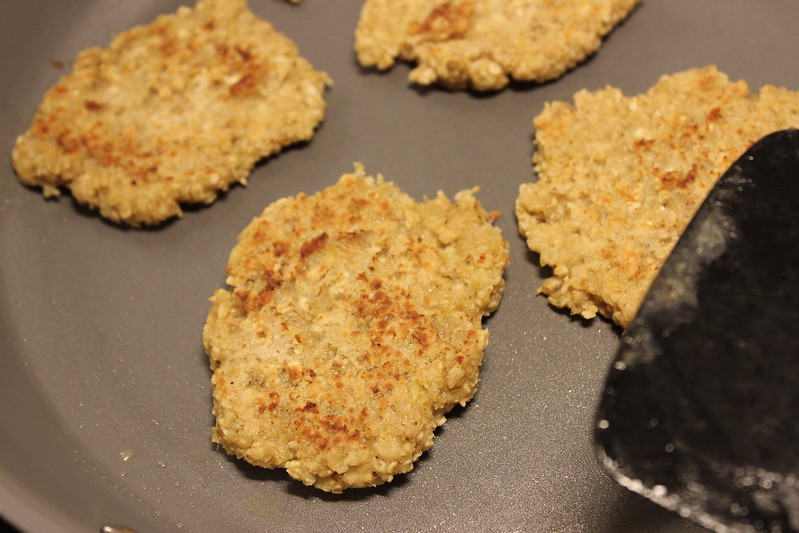 Etter noen minutter på hver side blir de gyldenbrune og faste.
Da kan de stables og nytes!
Disse små pannekakene passer like godt som frokost, lunsj, kveldsmat og dessert, når som helst.
Spis dem som de er, ha på godt syltetøy eller unn deg selv litt iskrem ved siden av, slik jeg gjorde.
Med et ekstra dryss kanel, så klart.
Vel bekomme! Vi fortjener det!
– – – – –
In other words: I like everyday treats that are quick and easy to make, and if they're tasty and quite healthy at the same time, that's just a bonus. These super simple banana pancakes tick all the boxes! This is really more a tip than a recipe, as you only need two things: a banana and a cup of rolled oats. Mash the banana and mix it with the oats. Add some cinnamon if you wish (I always do!), or some cocoa powder or grated coconut or cardamom – everything works. Heat a pan to medium, add some butter and make four little pancakes. Cook them for a few minutes on each side until they are firm and golden. Then stack them and eat them! For breakfast, lunch, a snack or a dessert. Serve as they are, with some jam or with a bit of ice cream (and another little sprinkle of cinnamon, of course). Enjoy! We deserve it!