Nå har jeg fått kjøpt meg sykkelhjelm! Den får meg til å føle meg som ei frøken i ei sidevogn i en gammel film.
Slik ser vi ut sammen med Humla, altså den nye sykkelen, i sommersol.
Kjolen er vintage, forresten, og jeg kjøpte den i Canada i høst. Det har vist seg å gå helt greit å sykle med kjoler og skjørt, nesten uansett volum og lengde. Jeg er blitt positivt overrasket, og det er jo alltid en bonus.
Tilbake til hjelmen. Jeg ville ha en som var både praktisk og pen, og den måtte selvfølgelig være trygg og behagelig i tillegg.
Denne lyseblå saken fra Electra oppfylte alle kriteriene!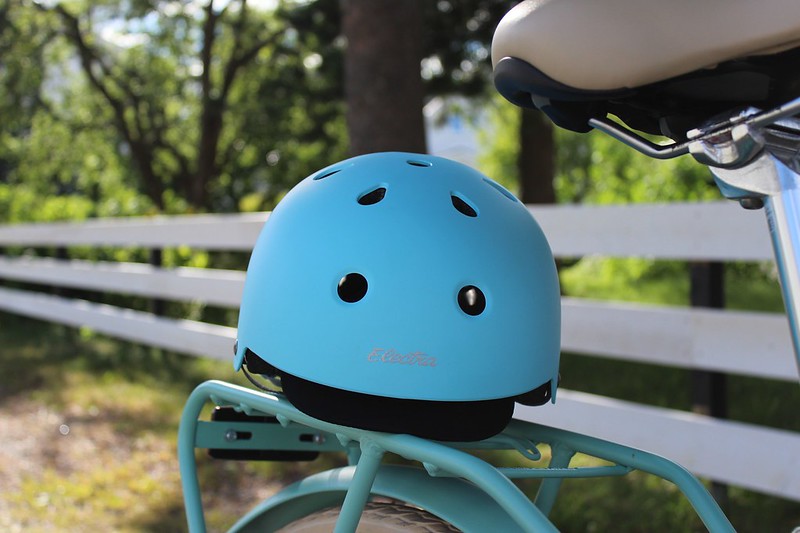 Hjelmen er kjøpt hos Sykkelpikene i Oslo, som har sååå mye fint! Den var ganske dyr (syntes jeg, som aldri har kjøpt sykkelhjelm før), men det er jo ens egen sikkerhet man investerer i – og så er det jo hyggelig å handle hos små, uavhengige butikker.
I dag skal vi ut på vår første langtur, og jeg gleder meg!
Vil du se oss i aksjon på veien, sier du? Greit, vi legger ved et fjasete bilde til slutt, bare fordi jeg ikke kunne dy meg:
Slik ser det ut når fortid møter nåtid på to hjul, hoho!
(Dere husker kanskje inspirasjonsinnlegget mitt fra i vår, da jeg ikke var så fornøyd med sykkelsituasjonen min? I dag er jeg det, i svært stor grad! Jeg tar meg i å smile for meg selv når jeg tråkker i vei, og jeg ser at andre smiler når de ser meg også.)
Nå er Humla, Electra og jeg klare for alt!
Helt til slutt, litt sånn malapropos og meta: Nå i sommer tillater jeg meg å trappe ned bloggingen noe. Vanligvis pleier jeg jo å dele noe her inne annenhver dag, som dere vet, men i disse ferietider satser jeg på et par innlegg i uka. Det er jo så viktig å nyte sommeren når den er her, både for meg og for dere, hihi!
– – – – –
In other words: I've bought a bike helmet! It make me feel like a lady in a sidecar in some old flick. I'm very happy with it, because I wanted one that was both pretty and practical, as well as safe and comfortable. This pale blue thing from Electra ticks all the boxes! I did think it was a bit expensive, but I've never bought a helmet before, and I consider it an investment in my own good health. Anyway, this is what it looks like, and what we look like, in colour and in black and white – I just couldn't help myself, haha. The past meets the present on two wheels! (Here is the post about my new bike, if you missed it.) By the way, on a completely different note, I just thought I'd mention that I'll scale down the blogging this summer. Usually I post something every second day, as you know, but this coming month I'll probably go with two posts a week. Summer is so short, so it's important to enjoy it while it lasts – for me and for you guys, too! Today we're going on our very first long trip, and I'm really excited!