Det er kjekt å ha en sommelier i nær familie. Når vinkelneren ikke kan stille opp selv, blir man kanskje spurt om man vil gå i stedet. Jeg er ikke vond å be når det er vin i bildet, hoho!
En fredag for noen uker siden fikk jeg anledning til å gå på sprudlesmaking i en bakgård på Solli. Jeg plukket opp Jonasflotte da han var ferdig på jobb, og så gikk vi til Skaugum, hvor ingen av oss hadde vært før.
Glade mennesker og god vin blir liksom automatisk bra.
Stedet Skaugum var helt annerledes enn jeg hadde forventet – det høres jo så fornemt ut, men det var veldig avslappet stemning, og bakgården var full av skranglesjarm og festlige detaljer!
Bakgården hadde tre etasjer, og hvis man tok de smale trappene opp i høyden, kom man til en ekstra bar med discokule og en hel vegg full av gamle vaskeservanter. Akkurat passe snodig!
Vi fikk smake på fire viner: En prosecco, en rosa cava, en sekt (tysk musserende) og en champagne. Ikke overraskende var den sistnevnte best, men sekten kom faktisk på andreplass. Dagens positive overraskelse!
Glassene og bakgården fyltes opp, og sola tittet ned mellom husene. Småsnakk, skåling og helgeglede lå i lufta. Jonasflotte og jeg smakte oss rundt og hygget oss veldig. Her er beviset i form av et discokule-champagne-drikke-bilde.
Dette var en helt utmerket måte å innlede helga på!
Har noen andre vært på Skaugum? Anbefales!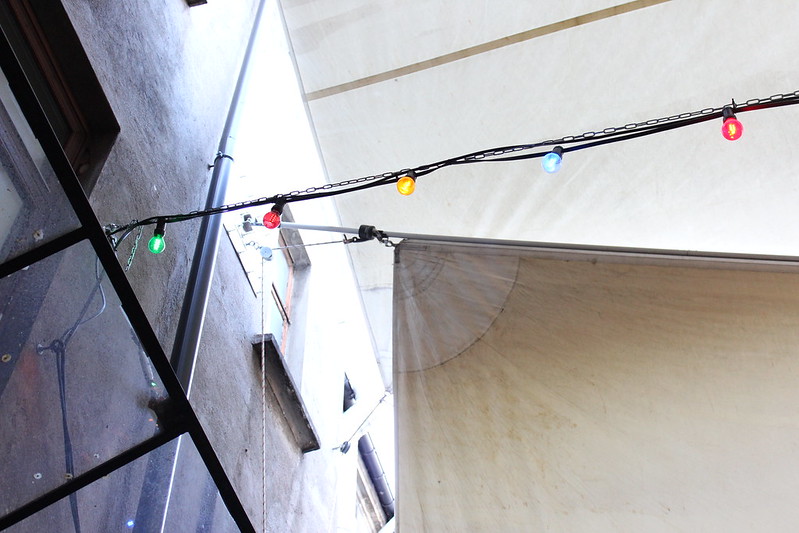 (Pssst! Forresten: Om du liker å lese om vin, vil du kanskje også like min nye nettside, vinogvegetar.no!)
– – – – –
In other words: There are certain perks that come with having a sommelier in your family. When my mother can't attend some wine tasting, she often asks if I want to go instead. Yes, please! A Friday a few weeks ago there was a bubbly tasting in a quirky backyard, and my boyfriend and I got to go. I had never been to the place before, as it is hidden away in a more expensive part of town, and I expected it to be quite a fancy affair. On the contrary – the backyard turned out to be full of charm and fun, campy details! It slowly filled up with smiling people who were happy the weekend had begun, and our glasses were filled with four kinds of bubbly: A prosecco, a pink cava, a sekt (German sparkling wine) and a champagne. We weren't surprised to find that the latter was the best, but the sekt took second place, and that was very interesting! My boyfriend and I had a lovely time tasting everything. This was a great way to kick off the weekend!