En fredag arrangerte vi fest. Vi inviterte en fin og variert gjeng venner, uten noen spesiell anlening til å ferie noe som helt – vi hadde rett og slett lyst til å feste, og det er jo den beste grunnen!
Jeg hengte opp et bokstavbanner i gangen som ønsket folk velkommen og forklarte konseptet.
Dessuten fant jeg frem Mikke og de geniale glassmarkørene med sugekopp og fine farger.
Min vin! Med disse små figurene slipper man å lure på hvilket glass som er ens eget!
Videre blåste vi opp ballonger, for det hører med når det er fest…
…og vi fant frem navnelapper, så det ble lettere for folk fra ulike miljøer å bli kjent med hverandre.
Jeg hadde retrokjole med art nouveau-blomster og sikkerhetsnål for anledningen!
Det begynte med en fin gjeng rundt stuebordet, og så utvidet antallet og området seg gradvis…
…til gulvet i gangen var et mylder av sko. Akkurat slik skal det være.
Noen satt ved spisebordet og drakk akevitt.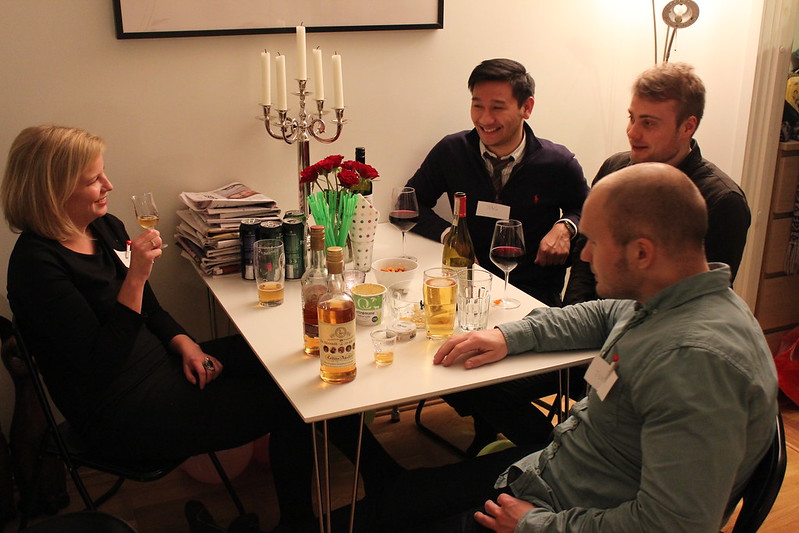 I et hjørne var det øl og fortrolige samtaler.
På gulvet ved bokhyllene satt fire kjekke fyrer og diskuterte hvilket Metallica-album som er best.
Etterhvert endte mange opp stående på kjøkkenet, slik man alltid gjør.
I det hele tatt var det mange fininger på besøk, som smilte og skålte og koste seg sammen med oss og hverandre, og det er nesten ingenting som gjør meg gladere enn det!
Kanskje bortsett fra ballonger, da. Ane-Marte og jeg var i ekstase.
Mitt kanskje største smil hittil i år, haha!
Det kaaaan hende at vi fikk en uniformert vakt på døra på et tidspunkt, men vi hadde hengt opp nabovarsel og spilte musikk på et fornuftig nivå, så han sa ikke annet enn at vi hadde vårt på det rene og at vi kanskje kunne prøve å snakke litt lavere likevel. Det kunne vi selvfølgelig, og dermed fortsatte festen. Vi holdt på frem til klokka fire, da de siste gjestene gikk hjem og vi ramlet i seng, med et hyggelig besøk sovende på luftmadrass i stua.
Slike kvelder gjør meg glad og ydmyk, fordi jeg er så heldig å ha så mange fine folk i livet mitt.
– – – – –
In other words: One Friday we hosted a party. We invited a lovely flock of friends for no specific reason, without an occasion, simply because we wanted to party – and that, of course, is the best reason of all! I hung a banner saying «just because» in the hall as a welcome, and I found the little glass markers I love so much, which helps you keep track of your glass. We also inflated balloons (no party without'em!) and prepared little name tags to make it easier for people from different social environments to get to know eachother. I wore a retro dress with art nouveau flowers and a safety pin holding my name in place. After a while the apartment filled up with people, turning the hall into a mess of shoes, standing and sitting everywhere, talking and smiling and raising their glasses. It was such a great evening! There is nothing I love more than being surrounded by good people having a good time – except maybe balloons. My friend Ane-Marte and I were quite euphoric, as you can see! Now, me may have had a visit from a uniformed guard some time during the party, but we had hung party warnings in the building, and the music was not too loud, so he said we had done nothing wrong – but maybe we could lower our voices a bit, all the same? We could, and the party went on, until four in the morning when the last guest left and we stumbled into bed with a visitor sleeping on an air mattress in the living room. This was the kind of evening that makes me all happy and humble, simply because I feel so lucky to have so many great people in my life.